Robroy Industries awards scholarship at Tom Landry Classic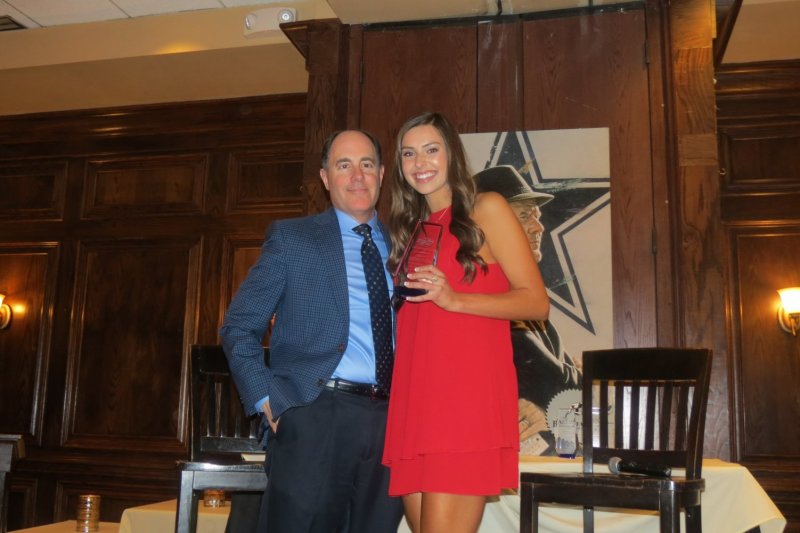 After legendary Dallas Cowboys Head Coach Tom Landry's passing in 2000, the "Tom Landry Classic" was created to honor his legacy. For 18 years now, "the Classic" has had strong ties to North Texas high school football programs and awarded scholarships to the participating schools' student-athletes. Although the games are played in the fall, the culmination of the Tom Landry Classic is in the spring when a banquet is held to honor scholarship winners.
Each year, senior grade-level Tom Landry Classic event participants (i.e. football player, band member, cheerleader, student manager, mascot, drill team member or student trainer) are eligible to apply for a Tom Landry Scholarship. These scholarships are funded by corporate partners and are awarded to students for their commitment to academic excellence, leadership among their peers, and service to their community. In other words, their character closely emulates that of Tom Landry. In the initial seventeen years of the event, the 1,768 applicants have volunteered over 97,000 hours in their communities, and the total amount of scholarship assistance from corporate partners stands at over $950,000.
"This event — more specifically, this banquet — allows us to pass on the wonderful legacy of Tom Landry to a whole new generation of young people," says Tom Landry Classic Executive Director Kris Cumnock.
On April 23, Elizabeth Dagg of Argyle High School was awarded the Robroy Industries 2017-2018 scholarship.
"Our recipients are always an exceptional group. I am humbled at how these kids balance school, work and extracurricular activities while still having time to volunteer hundreds of hours," states Cumnock.
Elizabeth is the Drum Major of the Argyle High School Band. With a 4.0 GPA she will graduate this May in the top 5% of her class. She is also the Captain of the Headline Journalism Team, a member of Student Council, and volunteered more than 100 hours of community service with Hurricane Harvey relief efforts, Woman To Woman Resource Center, UNICEF, and SPCA.  Upon graduation Elizabeth will attend Texas A&M and major in Business.