2017 FIRST Robotics Competition Kit of Parts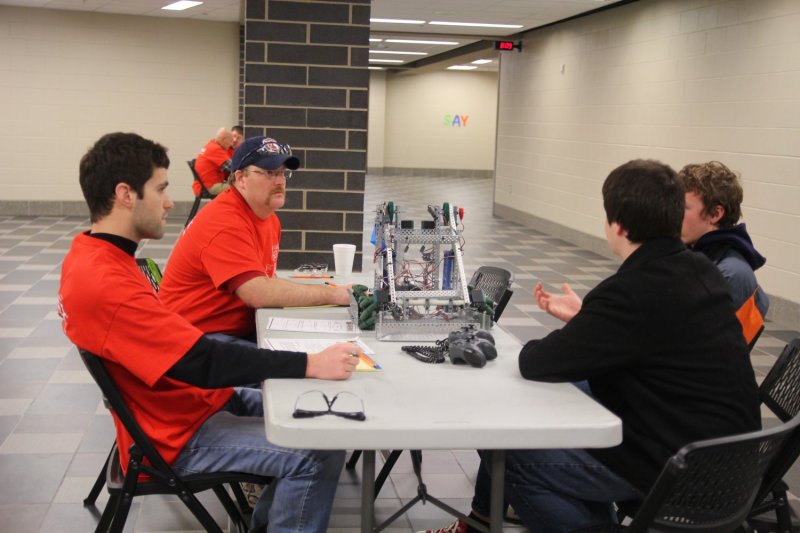 As a Bronze Supplier for the 2017 FIRST ® Robotics Competition Stahlin Non-Metallic Enclosures Enables the Next Generation of Innovators
Stahlin Non-Metallic Enclosures has joined forces with FIRST® (For Inspiration and Recognition of Science and Technology), an international K-12 not-for-profit organization founded by inventor Dean Kamen to inspire young people's interest and participation in science and technology. As a Bronze Supplier of the FIRST® Robotics Competition, Stahlin Non-Metallic Enclosures provided a substantial number of non metallic enclosures for the 2017 FIRST Robotics Competition Kit of Parts which was distributed to more than 3,336 teams of high-school students on January 7, 2017.
"Our job at FIRST is to develop the next generation of problem solvers who need skills in science, technology, engineering, and math (STEM) to solve the world's biggest challenges," said FIRST President Donald E. Bossi. "We do this by offering a project-based learning experience with the support of companies like Stahlin Non-Metallic Enclosures. With its generous support at the Bronze Supplier level, we are able to supply young innovators with the tools they need to get a jump on successful careers in STEM."
By providing components for the competition, FIRST Suppliers are putting the latest technology into the hands of students, giving them the opportunity to apply the same tools used by professional scientists and engineers and, ultimately, helping them learn real-world skills they will carry into the workplace.
"Stahlin Non-Metallic Enclosures is a firm believer in supporting STEM education programs such as FIRST. We are also glad that, over the years, we supported FIRST in our local school district in Belding, Michigan. This year, we made the decision to continue to invest in our young engineers by becoming a Bronze Sponsor, because the program continues to grow and provides students with critical skills for a manufacturing engineering role in the future," stated Jeff Seagle, President, Stahlin Non-Metallic Enclosures. "All of us at Stahlin Non-Metallic Enclosures wish all of the participating teams the "best of luck" in their pursuit to reach the finals."
On Jan. 7, 2017, FIRST teams were shown the new FIRST STEAMWORKSSM game playing field and received a Kickoff Kit made up of motors, batteries, control system components, construction materials, and a mix of additional automation components – but no instructions. FIRST teams can also choose additional Kit of Parts items from the FIRST Choice program, and download software and use vouchers from their Virtual Kits.
Working with adult Mentors, students have six weeks to design, build, program, and test their robots to meet the season's engineering challenge. Once these young inventors create a robot, their teams participate in competitions that measure the effectiveness of each robot, the power of collaboration, and the determination of students.
Stahlin Non-Metallic Enclosures pioneered non-metallic enclosures. For more than 60 years, we have led the electrical products industry in designing, engineering and manufacturing innovative, reliable fiberglass, polycarbonate, and PVC electrical and instrumentation enclosures for diverse interior and exterior applications. Stahlin provides the most extensive in-stock and customized line of non-metallic enclosures and accessories, balancing appealing aesthetics with stringent physical property performance standards including NEMA 4X and NEMA 6P integrity. As a proud U.S. manufacturer, we are the primary source producer of all our own enclosure components. Stahlin Non-Metallic Enclosures is a brand of Robroy Enclosures (a subsidiary of Robroy Industries, serving the marketplace under one family ownership since 1905). www.stahlin.com
FIRST STEAMWORKS invites two adventure clubs from an era in which technology relied on steam power to prepare their airships for the ultimate long distance race. Each three-team alliance scores points and prepares to take flight by building steam pressure, gathering materials to start the rotors, and boarding robots onto their airships. The adventurer club with the highest score at the end of the match is the best prepared for the race and wins.
FIRST Robotics Competition is an annual competition that helps students to discover the excitement of science, technology, engineering and math (STEM) and the rewards a career in STEM can bring. In 1992, the FIRST Robotics Competition began with 28 teams and a single 14-by-14-foot playing field in a New Hampshire high school gym. This season, more than 3,336 teams – including 424 Rookie teams – will participate.
About 83,400 students from the U.S., Australia, Brazil, Canada, Chile, China, Columbia, Czech Republic, Denmark, Dominican Republic, Ecuador, France, India, Israel, Japan, Mexico, Morocco, Netherlands, Poland, Singapore, Switzerland, Taiwan, Turkey, U.K., and Vietnam will compete in 80 District Events, 10 District Championships, and 55 Regional Events in six countries – all leading up to the 2017 FIRST Championship events in Houston, Texas April 19-22, 2017 and St. Louis, Mo. April 26-29, 2017. This season, participating FIRST Robotics Competition high-school students are eligible to apply for $50 million in scholarships from more than 200 FIRST® Scholarship Providers.
About FIRST®  
Accomplished inventor Dean Kamen founded FIRST® (For Inspiration and Recognition of Science and Technology) in 1989 to inspire an appreciation of science and technology in young people. Based in Manchester, N.H., FIRST designs accessible, innovative programs to build self-confidence, knowledge, and life skills while motivating young people to pursue opportunities in science, technology, and engineering. With support from over 200 of the Fortune 500 companies and more than $50 million in college scholarships, the not-for-profit organization hosts the FIRST® Robotics Competition for students in Grades 9-12; FIRST® Tech Challenge for Grades 7-12; FIRST® LEGO® League for Grades 4-8; and FIRST® LEGO® League Jr. for Grades K-3. Gracious Professionalism® is a way of doing things that encourages high-quality work, emphasizes the value of others, and respects individuals and the community. To learn more about FIRST, go to www.firstinspires.org

FIRST®, the FIRST® logo, FIRST® Robotics Competition, Coopertition®, Gracious Professionalism®, Sport for the Mind™, FIRST STEAMWORKSSM are trademarks of the United States Foundation for Inspiration and Recognition of Science and Technology (FIRST®). LEGO® is a registered trademark of the LEGO Group. FIRST® LEGO® League, and FIRST® LEGO® League Jr. are jointly held trademarks of FIRST and the LEGO Group. All other trademarks are the property of their respective owners. ©2017 FIRST. All rights reserved.