Robroy Enclosures exhibiting at International Wireless Communication Expo (IWCE)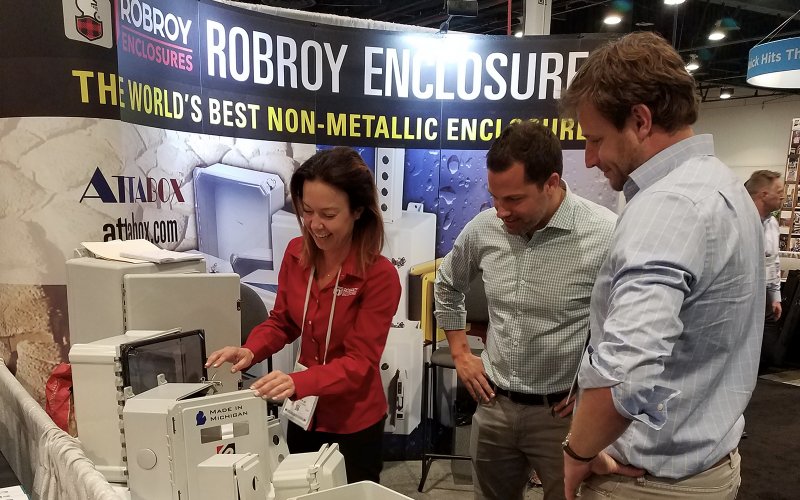 Robroy Enclosures two market-leading non-metallic enclosure brands: Stahlin Non-Metallic Enclosures and Attabox Industrial Enclosures exhibiting at International Wireless Communication Expo (IWCE) Stop by Booth # 578, Las Vegas Convention Center March 29-30, 2017
Robroy Enclosures, a subsidiary of Robroy Industries, serving the electrical products marketplace under one-family ownership since 1905, will be exhibiting at International Wireless Communication Expo Booth # 578, Las Vegas Convention Center, March 29-30, 2017. A wide range of Robroy non-metallic enclosures for wireless applications will be on display.
A key benefit of non-metallic materials is that they enable electronic signals to transmit as freely as information systems require, without the need for an external antenna. Non-metallic enclosures for wireless applications have other advantages as well: they are easy to modify (simple to drill cutouts for audio/video connections); they properly and reliably protect controls in harsh environments; they are non-conductive, and are able to withstand extreme cold and heat.
Robroy Enclosures provides two market-leading non-metallic enclosure brands: Stahlin Non-Metallic Enclosures (www.stahlin.com) and AttaBox Industrial Enclosures (www.attabox.com). Through its two brands, Robroy Enclosures offers the most extensive selection of non-metallic enclosures available for meeting the needs of diverse industries, interior and exterior applications, appealing aesthetics, and physical property performance standards including NEMA 4X and NEMA 6P integrity.