Robroy Enclosures™ Attends 2017 Chem Show, New York City, Booth #629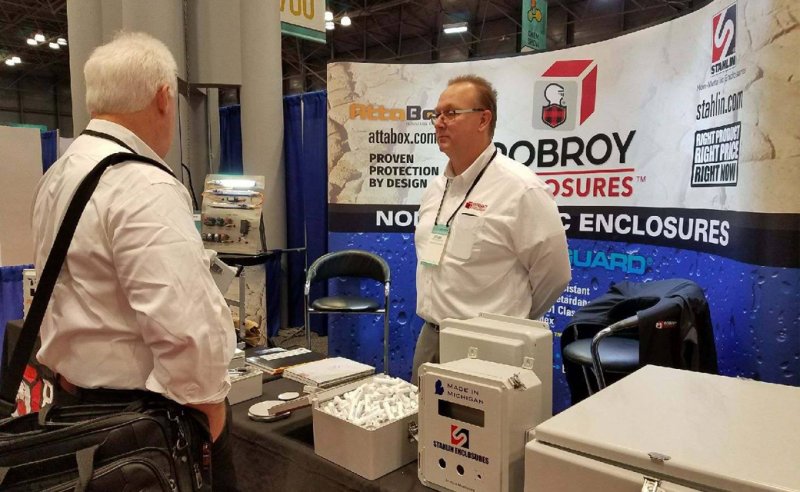 Robroy Enclosures™ to feature

Stahlin

®

Non-Metallic Enclosures N Series and

AttaBox® Industrial Enclosures Heartland TM Polycarbonate Series at the 2017 Chem Show, New York City, Booth #629
Robroy Enclosures™ will be featuring both the Stahlin® N Series and AttaBox® HeartlandTM Polycarbonate Series at the 2017 Chem Show at Booth #629. 
In addition, Robroy Enclosures™ will have on display other enclosures from: Stahlin® Non-Metallic Enclosures (www.stahlin.com) pioneers of the original fiberglass enclosure, and AttaBox® Industrial Enclosures (www.attabox.com), featuring innovative polycarbonate and fiberglass enclosures.
The AttaBox® Industrial Enclosures HeartlandTM Polycarbonate Series (AH) Series are high performance, enclosures applicable for heavy industrial conditions, but with a refined style suitable for commercial, industrial and OEM design applications. The polycarbonate resin in the Heartland Series attained the best available "F1" rating, having passed critical tests for UV exposure and water immersion.
AttaBox® HeartlandTM Series Industrial Enclosures are compliant with all industry standards for water-tightness, corrosion resistance, and even temporary submersible integrity. This includes NEMA 4X and 6P, along with IEC IP66 and IP68, integrity. Heartland™ series offer UL certified protection for the most extreme environments or exposure to rain, sleet, wind, fire, UV and direct spray down. AttaBox® Industrial Enclosures manufacturing produces products certified for UL508A, UL 50, UL 50E, as well as Canadian National Standard cULus, CAN/CSA C22.2 No. 94.1 and 94.2.
Stahlin® N Series Enclosures are designed to accommodate electrical, electronic, instrumentation, and mechanical controls indoors and outdoors complying with NEMA and IEC regulations. N Series 4X enclosures are specifically used wherever corrosion resistant, watertight enclosures are needed to provide protection against windblown dust, rain, splashing, and hose-directed water. The "N" designation reflects a NEMA range series of large capacity enclosures from standard sizes 16"x 10"x 7" up to 90"x 72"x 36". Window options are also available and designated "NW".
Robroy Enclosures™ through its two brands Stahlin®, and AttaBox®, offers the most extensive selection of non-metallic enclosures available for meeting the needs of diverse industries for interior and exterior applications. With appealing aesthetics and physical and chemical property performance standards including NEMA 4X and NEMA 6P integrity. Be sure to stop by booth #629 at the 2017 Chem Show in New York City to learn more: