2017 AttaBox® Industrial Enclosures National Sales Meeting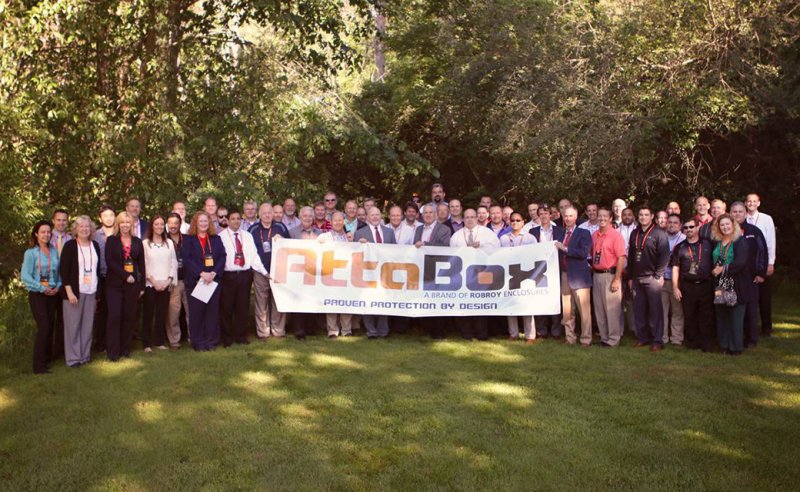 AttaBox® Industrial Enclosures 2017 National Sales Meeting - Building Strong Relationships and Commitment to the New AttaBox 2.0
More than 40 AttaBox® Industrial Enclosures sales representatives and 20 special guests from across the nation gathered in West Michigan for the 2017 National Sales Meeting.  At this meeting the baton from the original owner and founder of Attabox®, Bill Evatt, was officially transferred to Robroy Enclosures™.  Robroy Enclosures™ acquired the assets of AttaBox Enclosures in June of 2016.
During the two day meeting the sales representatives were reintroduced to the AttaBox legacy product, Heartland™, complimented by new product expansions.  They were also introduced to 11 new product lines including over 800 new parts, which include new thermal accessories, and a vast offering of enclosures and back panels.  These include Commander Series, Freedom Series, Viking Series, BantamBox Series, Endurance Series, Centurion Series, Triton Series, MachoBox Series, and DuraShield Series.  A totally redesigned website, catalog, and other marketing materials were also presented to the group.
"The representatives were intentionally given time to mingle with the entire team in order to gain a better understanding of the company's forward thinking, the commitment to the AttaBox® brand, and the importance of their role for continued success." stated Jeff Seagle, President, Robroy Enclosures™. Jeff Seagle continued: "Most importantly, everyone walked away after these two days confident that the AttaBox® representatives were comfortably familiar with all of the new product lines in order to retain current customers and add new ones."
The representatives were also provided with a full tour of the manufacturing plant in Belding, Michigan where the team demonstrated Robroy Enclosures™ commitment to producing high quality NEMA rated enclosures. The group was shown the in-house sheet molding compound equipment, which produce, the patented Solarguard® raw material formulation.  They also gained knowledge of the company's ability to perform custommodifications on enclosures using cutting edge CNC equipment.
AttaBox® is a distinguished force in the engineering, manufacturing, and marketing of polycarbonate and fiberglass enclosures. AttaBox® provides extremely high-quality engineered non-metallic NEMA-rated enclosures for the industrial, solar, electrical, telecommunications, HVAC, instrumentation/control, government, oil/gas, and construction markets.
AttaBox® Industrial Enclosures provide UL certified protection for the most extreme environments (impact, rain, sleet, wind, fire, UV, direct spray), offering Proven Protection by Design!  AttaBox® is a brand of Robroy Enclosures™ (a subsidiary of Robroy® Industries, serving the marketplace under one family ownership since 1905).  https://attabox.com