Robroy Enclosures™ Exhibiting at AHR Expo in Chicago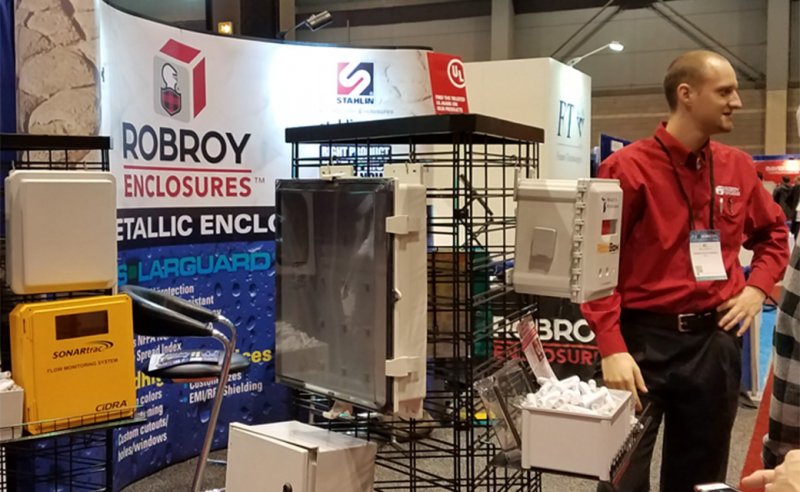 Robroy Enclosures™, a leader in the design and manufacturing of Stahlin®, and AttaBox® non-metallic NEMA-rated enclosures, announces it is exhibiting at the AHR Expo in Chicago, at Booth #5497. On display will be enclosures that have met the requirements for UL 2043 space compliant applications and their new enclosure accessory product line.
Robroy Enclosures™ has five popular size options that MEET all threerequirements including:
The peak rate of heat release measured during each enclosure tested is 100 kilowatts, or less.
The peak smoke release rate measured during each test is 0.21 m² /s, or less.
The total smoke released (10 minute test duration) is 75 m², or less.
The UL test determines the rate of heat release and the rate of smoke release of the burning product samples as they relate to the requirements for fire-resistance and low-smoke producing characteristics in accordance with the provisions of the following codes: National Electric Code, NFPA 70; International Mechanical Code, NFPA 5000; and Standard for the Installation of Air Conditioning and Ventilating Systems, NFPA 90A. Contact Roger Schroder for full testing results: [email protected]
Robroy Enclosures™ Accessories includes the patented Pluggit!®, and new thermal accessories such as heaters, thermostats, filters, and LED lighting.
The Robroy Enclosures™team acknowledge that engineered modifications using accessories may become complex and are end-user specific; but these accessories were chosen specifically because they can be added to any purchase, or as a separate item.  Part numbers and their specifications are shown in new downloadable or hard copy literature making ordering Robroy Enclosures™ Accessories easy.
Robroy Enclosures™ provides two market-leading non-metallic enclosure brands: Stahlin® Non-Metallic Enclosures (www.stahlin.com) pioneers of the original fiberglass enclosure, and AttaBox® Industrial Enclosures (www.attabox.com), featuring innovative thermoplastic polycarbonate and fiberglass enclosures.  The U.S.A. made fiberglass lines feature Robroy Enclosures™ patented UV protection SolarGuard® technology. Through its two brands, Robroy Enclosures™ offers the most extensive selection of non-metallic enclosures available for meeting the needs of diverse industries, interior and exterior applications, appealing aesthetics, and physical property performance standards including NEMA 4X and NEMA 6P integrity. For more details, please visit: RobroyEnclosures.com