Robroy Stainless Receives a 2022 EC&M Magazine Product of the Year Award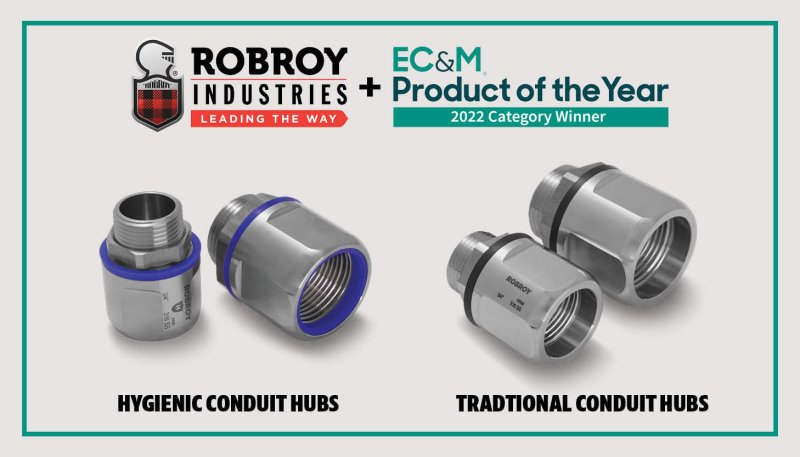 Gilmer, Texas – Robroy Stainless®, a division of Robroy Industries®, has won the 2022 "EC&M Magazine Product Of The Year" Award in the Fittings (Conduit and Cable) category in recognition of Robroy Stainless® stainless steel conduit hubs.
Robroy Stainless conduit hubs are used to terminate stainless steel rigid conduit safely and securely to a box or enclosure. Available in traditional and hygienic designs, the 316 stainless hub provides long dependable service in applications where corrosion resistance and/or compliance with hygienic principles are required. Additionally, Robroy Stainless conduit hubs are available in 1/2", 3/4" & 1" trade sizes with a grounding locknut and are third party certified for bonding and grounding.
"The EC&M award is an honor that we gratefully accept on behalf of all our customers who are ultimately to be credited for motivating all innovations that have been designed into our family of Robroy Stainless products," says Steve Voelzke, President of Robroy Industries. "Robroy Stainless Steel is a complete raceway system solution including conduit, fittings, and accessories featuring innovative designs that take corrosion resistance and contamination elimination to a new horizon."
Robroy Stainless conduit hubs attach to the box or enclosure by installing the male threads of the conduit hub body through the opening in the enclosure and securing with the locknut provided with the hub from the inside of the enclosure. The rigid conduit is threaded into the female NPT threads of the conduit body.
Traditional conduit hubs are typically used in manufacturing process facilities and locations where corrosion is an issue, like chemical, gas, and oil processing, nuclear, water, waste-water facilities, and pulp and paper manufacturing.
Hygienic conduit hubs are typically used in facilities where corrosion and hygiene are concerns. Typical facilities are those in the food & beverage and pharmaceutical verticals. These verticals are also commonly including governmentally regulated facilities.
About Robroy Stainless:
Robroy Stainless offers a full line of stainless steel conduit, fittings and accessories for electrical raceways in both traditional and hygienic environments. It complies with standards mandated by UL 6A, ANSI C80.5, UL 514B and NSF/ANSI/3-A 14159-1.
For additional information please visit: https://robroystainless.com